DDW from a jewelery artists point of view
I started writing an article on jewelery in the DDW some time ago, but it accidentally got erased, so now I feel pretty unfortunate about my bogging career. But I still wanted to share the impressions by (as some friend once said about tweeting) writing a message to now one. So you are welcome to see over my photos with my short comments.
I'll begin with Judith Schwendener, she was the first jewelery artist I meat in the DDW. Her work seamed interesting and it approved when the author explained her idea about her jewelery collection – Ornamental Abstractions.
Judith Schwendener

This is a book that documented her process of getting to the jewelery piece. She works with the idea of recycling and giving second life to old objects but in a smart and thought-out manner. You can read more about her idea in her home page. 
Judith Schwendener

Judith Schwendener (on the right) explaining her work to a visitor 

 I had an idea to document the jewelery pieces that people are wearing to these kind of events. I have noticed that you can find people with more extraordinary adornment in areas where you can buy that kind of stuff. It might also mean that people were more unusual jewelery to events where they feel that they are going to fit in with their beloved wearable art pieces. Another frequent situation is that the wearer is the author of his or here jewelery piece. This puts me in an awkward situation if I accidentally don't recognize a famous jeweler and his or her jewelery piece so I am sorry in advance if this is the case.

A women wearing an interesting necklace in the DDW 2015 Design Perron


Another thing I wanted to note is that some of the pieces that people were are pointing out their belonging to the event as the next example show. The women with her DDW ticket-bracelet.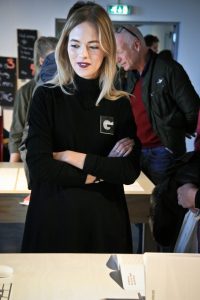 One of the graduates in the Design Academy Eindhoven Graduation Show 2015 with the brooch pointing out her belonging to the Graduation Show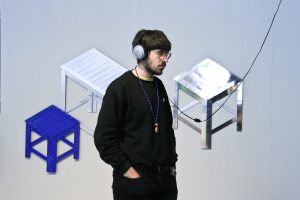 Design Academy Eindhoven Graduation Show 2015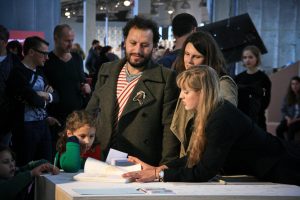 Design Academy Eindhoven Graduation Show 2015
Next picture shows how the necklace interacts with the person in movement.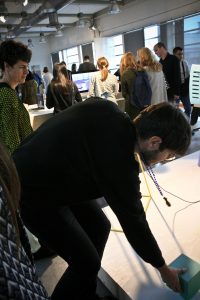 Design Academy Eindhoven Graduation Show 2015
I knowingly added this picture to my jewelery related photo selection. This spectator is wearing a surgical mask but sometimes objects like these can be caught differently from how they were intended. For example Marcel van der Vlugt photography shows that mouth too can be decorated as other parts of the body. Burcu Buyukunal, Naomi Filmer and Imme van der Haak (her work was shown in the Van Abbemuseum) are just a few artists who have worked out new ways of decorating human face.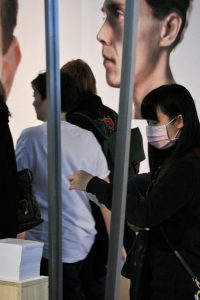 Design Academy Eindhoven Graduation Show 2015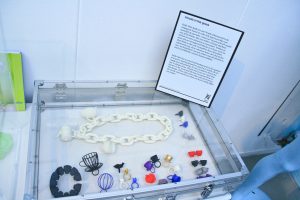 Ineke Otte
A lot of attention in the design arena is drawn to 3D printing and the possibilities it gives to different kind of design fields. It also gives opportunity to people with less knowledge about the sphere to jump into the market successfully or unsuccessfully.
A good example on 3D printing usage is Ted Noten's project "WANNA SWAP YOUR RING?" He carried out the project in various cites all around the world. You can reed about the project in his home page. I took part in the project swapping Mis Piggy ring to some ring I made in school during Ted Noten's exhibition in Riga in Gallery Putti."WANNA SWAP YOUR RING?" (San Francisco) was exhibited in the Veemgeboum exhibition Hands Off: New Dutch Design at the Confluence of Technology & Craft.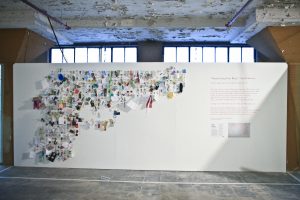 Ted Noten  "WANNA SWAP YOUR RING?", San Francisco
Ted Noten is represented in the Van Abbemuseum with his Mercedes Benz Brooches.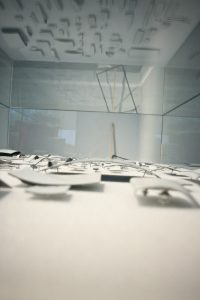 Ted Noten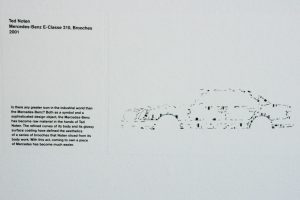 Ted Noten
 If we look at artists like 
Yuka Oyama
as representatives of the jewelery art fieldthen
Moulage Masks at the Temporary Art Center Eindhoven could qualify as facial decorations.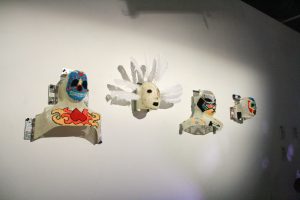 Moulage Masks by Chantal Hanssen/ Michelle Geraets/ Jordi Raes/ Vera den Otter/ Kevin Hennessy/ Milou Wehrens
A lot of people enjoy the interactivity in the faceexhibit pieces thanks to the social networking website instagram.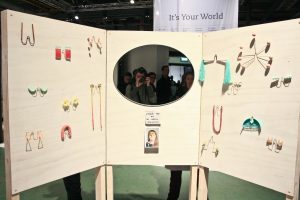 Ditte Trudslev Jensen – faceexhibit
The most fragile pieces I saw were Anne Büscher glass objects.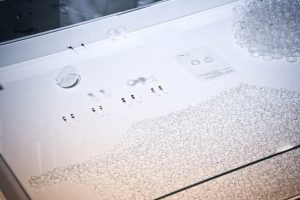 Anne Büscher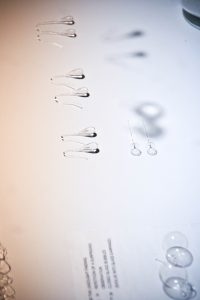 Anne Büscher